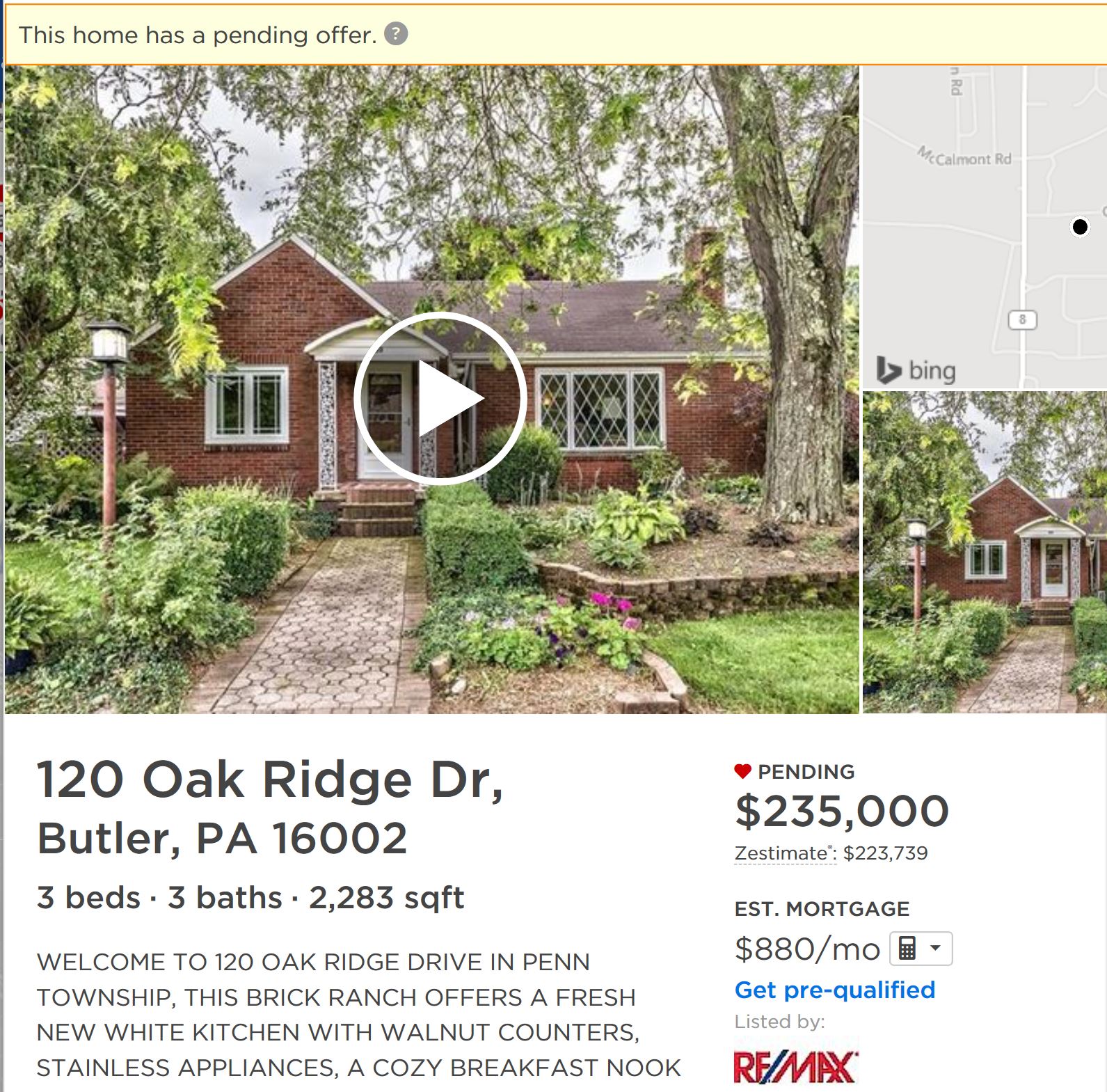 In this second image we see a group of homes presented to me by Zillow labeled Homes for you.  How they arrived at this I'm not really sure, I'm not a zillow expert.  None the less there were 10 panels visible without scrolling.  Of those the first 6 slots were homes photographed by me and contained Zillow Walk-thru videos done by me and one sponsored ad.  The next 4 were homes with videos and not photographed by me.  This same pattern showed up on in other searches for specific homes with tighter search parameters.  That is homes photographed by me that contained Zillow walk-thru videos appeared in those coveted top spots.  They contained more views etc.
My conclusion from this is that at the very least this is a very good thing for the agent.  It supports industry claims that professionally photographed homes get more views and thus showings and Zillow's promise they will place homes with video walk-Thrus at the top of their listings.
In this third image we have a home that I photographed and did a Zillow video for.  When I compared this home to others Zillow said were comparable in the same area I was astounded. First this home sold in 6 days.  I though ti was "cute" but was a bit over priced.  None the less Bam it's gone.
What was most notable were the next two homes Zillow thought were comparable.
6125 Orchard Ln, Butler, PA 16002  days on market (164 days)
171 Woodcrest Rd, Butler, PA 16002 (285 days)
Both homes have Zillow videos done by agent and photos done by agent.  Other than that I though both homes were fairly priced and built better and were newer than the one that sold (120 Oak Ridge).
My conclusion is agents that do both, professional photos and Zillow videos done by me, sell homes faster and for higher prices than those who do not.  The value is there.  It makes business sense.  Just do it.
We have just completed our first two weeks of a new offering, Zillow Walk-Thru videos.  Being a detail guy, I wanted to sample the effectiveness of this offering on two fronts 1) Does it increase the views on Zillow  2) Does that translate into faster sales.
As far as the first is concerned, during the first two weeks Zillow views start at 5 to 10 times the views compared similar properties without videos and near the end of the two weeks the views seem to hold steady at 2x the views of similar properties (2x is Zillows claim).  That's a very good thing.  The impact is there for sure.
As far as the second (faster sales) that also seems probable.  Admittedly absolute conclusions drawn from a sample of 10 homes ranging from $200k to $1.2 million might not be the best sampling but it does support both Zillow's claims and my assumptions that more views result in faster sales.  Read on…